Product Features
Great for In-Outdoor activities, Emergency & Rescue, Education, Home, Park, Recreation or Military Applications.
Camping, Mountain Climing, Fishing, Hunting, Backpacking, RV, Car, Truck, Marine, Boat, Military, Troops, Beach Activities & More....
24W Portable Solar Panel Battery Charger Kit, comes with 4 X 6W Poly-Crystalline Foldable Solar Panels, 12V x 8Ah lithium rechargeable battery, and accessories in a compact packing box.
Equipped with new quick charging MPPT controller that increases power efficiency up to 90%.
It takes 8 - 10 hrs to fully charge the 12V x 8Ah lithium battery. Battery have a 12V DC output port & 5V USB output port for bus powered devices and any other 12V devices.
A 110V DC to AC Inverter and a Universal Adapor for USA Region.
A Car Battery Clamp style cable for charge Car Battery.
A Car Cigarette light adaptor for additional charging source during driving.
1 Year Warranty.

Description


24W open at 55 x 40 CM, and folds down to only 28 x 21 CM for easy Carry & transport. The Kit also come with a 12V x 8 Ah lithium battery that will power a laptop computer for up to 2 hours. It works with iPhone and Macbook.
Maximum Power Point Tracking Quick-charging MPPT Controller, which tracks variations in the current and voltage produced by the solar panel and ensures a maximum charge rate for the battery. Other standard accessories include a cigarette lighter plug, DC to AC inverter and clamps for charging car batteries.
Solar Panels used are made by SunTech, world's number one panel manufacturer.
For a cellular phone with power consumption of 2W, you may use it for 40 hours.
For AC-DC power adaptor, it comes with 110V as default for USA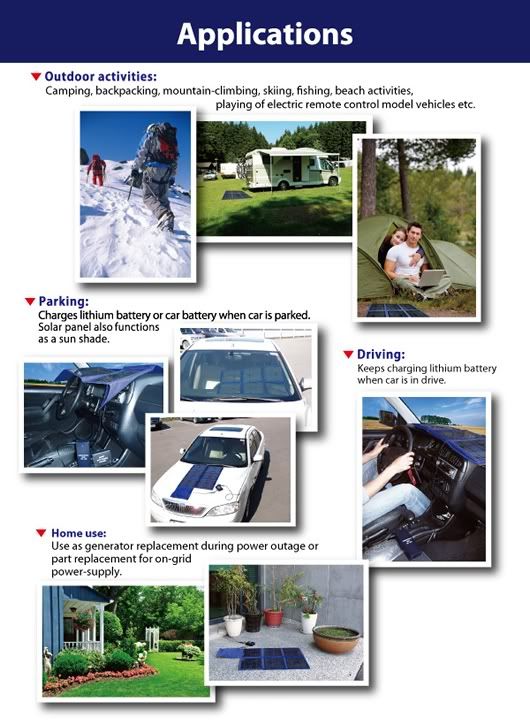 SHIPPING TIMES: Most, but not all orders leave our warehouse within 1-7 business days. Allow time from the day we ship for UPS or the USPS to deliver it to you from Upstate NY. Please call for rush orders before 2:00 Eastern time. That means that some items, to some locations could take two weeks or more. Remember, we're a 50 year old family run business, so feel free to call us for a rush. We can get most of our items out the same day and use next day air and get it to you tomorrow, but you need to call before 2:00 Eastern time.

SHIPPING CHARGES: To determine your shipping charge, simply add the items that you want to buy into your pack/shopping cart and click on the Secure Checkout button to go to the next screen and all you will need to enter is your zip code, hit the apply button and you will get your shipping charges before you have to enter any more information.
WE CAN NOT SHIP CASES OF CANNED FOOD OUTSIDE OF THE LOWER 48.

Prices subject to change without notice. We are not liable for any typographical errors or errors in pricing.
— Click Here for Size Chart —
— Click Here for Women's Sizing Chart —